Our Wild Horse Saloon is the place to be! During your ranch holiday, enjoy the western hospitality. It's where we eat, socialize, relax and wind down with a game of pool, backgammon, fusball, ping pong, karaoke, line dancing or to watch a movie.
During your ranch holiday, our cheeriest chef in the West will greet you every morning and evening in the Wild Horse Saloon. Every meal is prepared with pride. Enjoy fresh breads, salads, fruit, vegetables and freshly baked pastries at the Campbell Hills Guest Ranch in Kamloops, BC! We always joke that if you're hungry around here, it's your own fault!"
We are careful to meet special dietary needs in the Wild Horse Saloon. We have extensive experience with vegetarian, vegan, low carb and gluten free cuisine.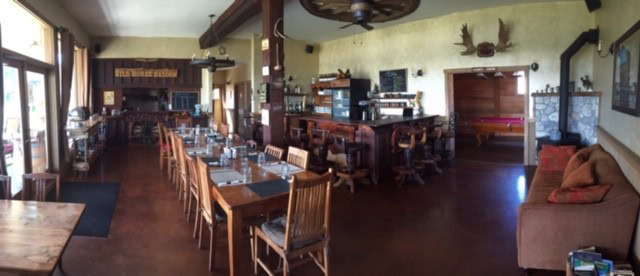 Breakfast, Lunch and Dinner
Our buffet-style, Rancher's Breakfast will set you up with the all the energy you need to hit the trails! Lunch will be served either at the Wild Horse Saloon, or out on the trail, depending on your package.
At dinner time, we all sit down together and enjoy a 3 course meal, exchanging tales from the day.
As soon as it's warm enough in the evenings we like to have appetizers and dinner out on the deck, overlooking Campbell Lake. Mouth-watering entrees include a premium Triple A New York striploin, Martin's chicken satay, and the most tender barbecued ribs you'll ever eat. Then send yourself over the edge with Campbell Hill's chocolate fondue, dutch pastries and fresh fruit for dessert.
Our wine list features some of B.C.'s best wine, including a selection from Kamloops' own Privato Vineyard & Winery, Monte Creek Ranch Winery and Harper's Trail Estate Wines.